Kafka Shorts
for String Quartet and 2 Actors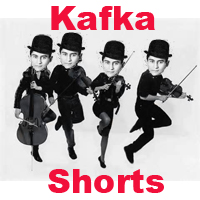 http://www.theaterpizzazz.com/voice-afire-presents-kafka-shorts/
Voice Afire presents "Kafka Shorts"
It is rare to find an evening at the theater that features classical music, dance, and great literature. VoiceAfire presented "Kafka Shorts," a Concert and Wine Tasting that took place on Friday, May 30 at Tenri Cultural Institute.


Voice Afire Pocket Opera and Cabaret is dedicated to creating performances that are "Chamber Music as Theater." The company chose text from Franz Kafka, best known for his work with "The Metamorphosis" and "The Trial." Kafka's themes of alienation were clear in the original live music performance piece inspired by and using text from "The Parables" by Franz Kafka. All in all, Voice Afire made a strong showing with "Kafka Shorts," and the evening was a careful blend of music and performance.

The piece was thought-provoking without being esoteric. Ray Luedeke adapted the Kafka Shorts, using a two person cast that featured Paula Llapur and Eric Gravez. The performances were lively and engaging. The performers used the gallery space in a smart way, effortlessly flowing through a devised stage space while finding meaning in Kafka's challenging ideas.

Joshua Rosenblum, Director Pit Stop Players, NYC <josh@rosenblummusic.com>
I think they are terrific pieces—you've really done a great job of finding a musical language that is just the right complement for Kafka's world. The music captures the vibrant, compelling aspect as well as the unsettling otherworldliness. You also seem to have hit on a really distinctive and appealing synthesis of music, theater and literature. I found all of these really quite enjoyable and stimulating. There were a few times where the underscoring was so interesting that I was distracted from the words, but mostly you were very skillful about leaving room for the actors to deliver their lines, so it all added up very effectively. Great performances from the actors and musicians alike, and not bad conducting, either! Congrats—I think you're really on to something here. Bravo on a brilliant job all around.
My Life with Pablo Neruda
Pocket Opera for 8 Performers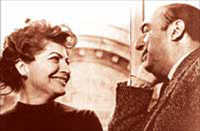 New York City - Manhattan with a Twist - May 2013

Based on the poetry of Pablo Neruda and Matilda's memories, this pocket opera can be seen as portraying one of the greatest love stories of the past century. The poetry is gripping, exciting, passionate, and yet full of such emotion that it takes the audience inside their world and the atmosphere surrounding them at the time the poems were written. There were also two opera singers–a man and a woman. Throughout the sonnets, they would perform their opera sections with such beauty, that even if one was not an opera fan, it pulled you in and kept you captivated .
Butterfy's Trouble
Pocket Opera for 7 Performers

New York City - Theater Mania - 19 Jan. 2012 complete review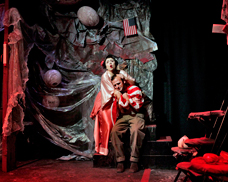 This new version by Ray Luedeke (premiered now in NY after earlier runs in Canada) breathes new life into the Puccini work as a real piece of theater, and may mark the direction for opera to take as a living art form in the coming century. The use of a chamber group to provide music and participate in the show reflects the compromises needed to produce live music and theater in the modern world.
Kitchener, Ontario - Jan Narveson - July 2009 complete review
K-W Chamber Music Society's presentation of the Voice Afire Pocket Opera Production of Puccini's Madama Butterfly, with a short variety program to start off, was a resounding success in their diminutive Music Room on July 3, 2009. The hall was filled literally to capacity - the last patron was wedged into a corner - and the audience was rapt and enthusiastic.
"How does one transform a grand opera so that it can be performed in an intimate setting by a small group of performers and yet not lose its dramatic impact? Raymond Luedeke's Voice Afire Production of Madama Butterfly appears to be the answer to that question. The tale is told by Butterfly's grown son, reflecting on the events that led to his birth. By use of narration and excerpts from the opera skillfully arranged for a chamber ensemble, Mr. Luedeke has managed to create a compelling and captivating work. Bravo!"
Robert Sutherland
Chief Librarian
The Metropolitan Opera
www.metoperafamily.org
"I found Voice Afire's adaptation of Puccini, Butterfly's Trouble, to be a wonderfully effective musical and theatrical experience. My audience at The Festival were absolutely enthralled. I have been hearing many rave comments."
James Campbell, Director, Festival of the Sound; Ontario, Canada
http://www.festivalofthesound.ca
The Art of Love
for 2 pianos and actor with visuals
http://www.manhattanwithatwist.com/?p=5706 Amanda Mactas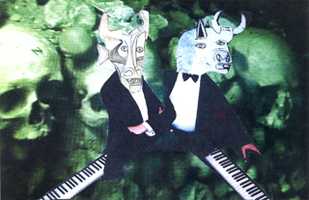 We were blown away by pianists Jennifer Chu and Beth Nam, who played in tandem throughout the evening. While it is always riveting to listen and watch a talented musician, seeing both pianists play at the same time was even more impressive. The concert began with a quick piece featuring Darius Milhaud's Scaramouche, followed by the main piece, The Art of Love (Into the Labyrinth), which also incorporated actor Harry Burney. The performance was based on Ovid's The Art of Love, which holds advice for men and women on how to find, attract and hold a lover — both wise and humorous, especially since it was written in 2 AD. Drawing from Roman mythology, Ovid told the legend of the Minotaur and labyrinth on the island of Crete. The performance told the tragic tale, which followed the dueling royal families of Crete and Athens. The story takes you on a roller coaster ride of emotions — making it all the more believable as portrayed by Burney, whose voice, like Morgan Freeman's, could probably make you believe anything
"The performance (of The Art of Love) was both stimulating and sensual--a stirring combination of words, music and images; I have never seen anything else like it."
Carol Lowrey, PhD.
Close Embrace
Tango Cabaret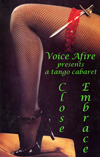 "As a publisher, I have travelled the world, but as a tango dancer I keep my eyes open for tango shows wherever I happen to be. I have been entranced by shows in such unlikely places as Edmonton, Bologna, Ellenville, New York and more traditional centers like London, Antwerp, Amsterdam and of course, Beunos Aires. But one of the most surprising was a wonderful program of dance, music, and tango history put on by Toronto musician Raymond Luedeke as part of the Shaw Festival Summer program at Niagara-on-the-Lake. His musicians and dancers were excellent and his commentary tied it all together nicely in a neat, historical package. If it comes to your town, it is a show not to be missed!"
Mary Macchiusi
President, Pembroke Publishers
www.pembrokepublishers.com

"As Argentine Tango dancers ourselves, we enjoyed Ray's Voice Afire Productions immensely, particularly "Close Embrace". Ray is a very talented musician, writer, and narrator who presents a history of Tango that is fresh and surprising even to an audience familiar with it. His arrangements for string quartet were evocative and the dancers illustrated the music beautifully. The intimacy of the production was also refreshing. Ray can impart a lot about his topic without ever being pedantic. "Close Embrace" was a unique theatre experience."
Colleen Clancey & Dieter Hessel
Owners, Dance Café
www.dancecafe.ca

"One of our most successful concerts was performed here at Music Niagara in 2008 and 2007. Voice Afire Production's Close Embrace" generated great community excitement, and was sold out with audiences of all ages. The audience loved the music and dance demonstrations, and the participatory part even more. The dance teachers were excellent and fun to watch. And what a thrill for me to see the novice dancers delight in their capacity to tango! Percy Webb, a Niagara-on-the-Lake resident and friend of mine who attended this performance said, "I thought I had two left feet but was dancing like a pro after 20 minutes. Great fun!"
Virginia Mainprize
Executive Director
Music Niagara
Niagara International Chamber Music Festival
concerts@musicniagara.org
The North Wind's Gift
Overture for Orchestra

Glasgow, Scotland - The Glasgow Herald - 1 May 1991
The North Wind's Gift which opened the concert is an extremely effective piece of pictorial modernism: scurrying, tempestuous, well-laced with dramatic tension, and very well written.
London, England - The Times, 3 May 1991
A neo-romantic tone poem, said to be derived from an opera in progress, it bespoke a threat of lyricism buried under a busy surface.
London, England - The Guardian - 3 May 1991
Luedeke's score amounted to an atmospheric symphony poem, taking advantage of the dramatic elements of pathos and magic in the tale. Vivid and assured in its orchestration, it was obviously a joy for the TSO to perform and its idiom intermingled tonal and chromatically saturated ingredients.
Edinburgh, Scotland - The Scotsman - 2 May 1991
A colorful, splinter sharp vehicle for an orchestral tour.. finally sprung from first note to last, yet so precisely calculated, or pre-calculated, in effect that one caught oneself wandering wether its sonorous climax, so redolent of Bartok's Blue Beard's Castle, was meant as a deliberate tribute to that composer...
Stuttgart, Germany - The Stuttgarter Zeitung - 15 May 1991
The well staffed orchestra shows in unrelenting fashion what a wealth of experience the composer has collected for his instrumentation. The very effective sound pictures are a blend of crass and mysterious, ludicrous and onomatopoetic parts all focused on harmony rich in tonality.
Frankfurt, Germany - Frankfurter Allgemeine - 8 May 1991
To begin, an opulent, onomatopoetic piece, full of genuine feeling...
Vancouver, British Columbia - The Province - 27 October 1991
... an exciting and nicely constructed work...
Vancouver, The Vancouver Sun - 26 October 1991
The concert began with an intriguing overture by Ray Luedeke... excerpted from an opera-in-progress, the North Wind's Gigt is a robust and lucid piece of music, (Tchaikovsky could learn a lot from Luedeke about writing programatic music).
Concerto for Double Bass

Nova Scotia, The Chronicle Herald
Bassist works out with Symphony Nova Scotia
Written by Stephen Pedersen
Thursday, 28 February 2008
Whatever else he created in the way of musical mayhem, Canadian/American composer Raymond Luedeke composed a stunning showpiece for double-bass virtuoso Joel Quarrington. Symphony Nova Scotia, on its finest mettle, with Bernard Gueller on the podium, escorted Quarrington through Luedeke's Bass Concerto on Thursday night in the Cohn before an ecstatic audience.
Tales of the Netsilik
for Orchestra with Narrator

The Toronto Star - 23 February 1989
... it was a richly satisfying score, full of imaginative ideas that combined to give a startling impression of life beyond he white man's world.... At the work's premier in Toronto, the audience was on its feet at the end of each of three performances and at intermission, symphony patrons besieged the symphony boutique with requests for the recording.
London, Ontario - The London Free Press - 23 March 1989
The big surprise of the evening were excerpts from Raymond Luedeke's Tales Of The Netsilik Suite, which were greeted much more warmly than most of the modern Canadian music Orchestra London plays.
Toronto, Canadian Living - September 1989
Tales of the Netsilik, performed three times, started strongly and grew better every night. Three curtain calls Wednesday and Thursday, and tonight four. When Ray Luedeke came out tonight, the audience stood. It was the first time Andrew Davis can remember that happening to a Canadian composer.
Toronto, The Globe and Mail - 12 October 1996
Tales of the Netsilik haunts my memory, though I have heard it only twice. It's based on Inuit folk tales, spoken in English translation over a highly evocative orchestral score. Admittedly, much depends on the speaking. But the 2 speakers I have heard in the work, though both superb, were so strikingly different that the musical foundation of the work must be very secure.
Edmonton, The Edmonton Journal - 25 February 1989
It's invigorating, explosive stuff, this suite in five movements from Tales of The Netsilik, and it was well received.... the third movement, thunder and lightning boomed with anger and dark crescendos. Triple loud with strange chromatic lines weaving upward and downward, it was compelling stuff!
Montreal Gazette - March 1989
"For sheer technical display, however, the evening reached its zenith at the start... a precisely orchestrated and vividly imagistic work"
"... a big major work. Bravo!" Lukas Foss
Prayers, Poems and Incantations for the Earth
for Chamber Choir and Children's Choir

Toronto, The Toronto Star - 4 June 2002
It was a remarkable concoction that linked texts by poets as diverse as e.e.cummings, Dylan Thomas, LI Po and Chief Dan George with chorus and dramatic refrains drawn from a First Nations prayer and it drew from performers a lively well-tempered display of the vocal arts. Astutely crafted and musically absorbing, it was a salutary warning of what our selfish peers are destroying, delivered under the leadership of conductor Lydia Adams with graceful, bounding lines that remained unbroken despite the vigorously textual transformations. The musical fabric here is delightfully organized and its interpretation was most appropriate.

Concerto for Violin

London, Ontario, The London Free Press - 29 October 1992
Audience interest continued to grow during Movement 3, slow and langorous in character, with the violin prominently accompanied by the harp. The music, which can only be described as ethereal, contained flashes of brilliant writing.
The Transparency of Time
Variations for Piano and Orchestra

New York, The International Musician - March 1986
A twenty minute set of variations for piano and orchestra. Luedeke's latest piece is one of difficulty for the pianist and an orchestral work of considerable colour, running the gamut from simple melody to contemporary avant-garde... It appears that with The Transparency of Time he has another winner in his hands.
Circus Music
for Brass Band
or for Orchestra

Toronto Star - April 8, 1991
... He managed to coax from the ensemble a picturesque collage of roustabout sounds - from animals to clown effects - in eight neatly stitched sections of bright and often witty music.
Fanfare - January/February 1995
Conceived as background music for a miniature circus created by American artist Alexander Calder, the work's eight movements succeed in bringing to mind everything from acrobats to dancing bears to clowns.
Ah, Matsushima!
for Violin & Marimba
or for Chamber Orchestra

American Record Guide - December 2006
Full of variety of mood and beautiful sounds, this is a very attractive composition taking full advantage of the sonorities violin and percussion can make together.
ArkivMusic.com
The work is concentrated in its materials, and probably the most substantive on the program. I liked its Bartókian aspects, i.e. a finely wrought use of motive, modal harmonic underpinnings, and a rhythmic sense that can range from almost static to intensely pulsed.
The Moon in the Labyrinth
for Harp and String Quartet

"... brilliant, idiomatically written for the harp, an important work." Nicanor Zabalata
"... and extraordinary composer... his music has strength and emotional appeal." Krysztof Penderecki
"... a genius for unusual combinations." George Crumb
Fancies and Interludes III
for Horn and Percussion (1)
Winner 1st Prize
International Horn society

The Kansas City Star, March 15, 1981
Among the smaller-scale pieces heard at the symosium, "Fancies & Interludes III", for horn and percussion by Raymond Luedeke was especially striking. A sense of color and mystery suffused the music, which owed something to Benjamin Britten and George Crumb.
Fancies and Interludes IV
for Bass Clarinet and Percussion (1)
Winner 1st Prize
Percussive Arts Society
Complete Review
ClariNetwork - Fall 1986
This is a chamber music piece worthy of becoming an exciting addition to the contemporary repertoire of any virtuoso bass clarinet player. Mr. Luedeke's use of rhythmic interplay between the percussion and clarinet is extraordinary. The clarinet, with its legato line an melodic leaps, played off against the percussive, melodic, and rhythmic use of both the vibraphone, marimba and other percussive instruments, builds tensions which command the constant attention of the listener. This piece demands true virtuoso ability on the part of both performers. The fancies & interludes explore the full range of sounds capable on these instruments. The use of strategically placed silences and wide range of dynamic levels adds to the excitement of the piece. The form is built into the composition and the "program" notwithstanding is not really necessary as an explanation of the music. Many additional listenings (I was given a tape of the recital performance) only added to my admiration of this piece of music and a desire to listen to the piece again.
Fancies and Interludes V
for Cello & Organ
London, England, The Diapason
A musical masterpiece speaks simultaneously to one's emotional and intellectual faculties, touching the most personal and most universal feelings with equal power. Luedeke's Fancies and interludes V may well be that kind of piece.... The organ and cello parts are equally difficult and interesting, and at no time does either assume the role of mere accompaniment to the other... highly recommended.
Fancies and Interludes VI
for Violin & Piano

Toronto, The Toronto Star 25 September 1989
There are some pretty wild sound effects from the keyboard, lots of musical passion, and an ingenious final Fancy that ends in a musical bedlam well controlled by Krueger and sort of battened-down by Israelievitch.
Garbage Delight
for Saxophone Quintet with Narration
The Buffalo News - 23 October 1989
... a whacky and whimsical 10 movement suite... Luedeke's score varied the accompaniments skillfully, some skittery, others dreamy and chordal. The piece was very imaginatively written, the poems were off-the-wall funny, and the whole experience could be viewed as delightful whimsical entertainment.
The Toronto Star - January 30, 1990
Luedeke's suite of eight settings is a marvel of simplicity used to the utmost effect. His music is rhythmic and expressive rather than conventionally melodic. He never resorts to the kinds of musical cliches that might have been expected. His compositions complement the texts and create marvelously evocative effects.
His Majesty The Tuba and New Hampshire
Wonderland Duets
Krishna

T.U.B.A. Journal - Fall 1980
They are delightful songs that cover a wide emotional and musical range. They are also good fun to do.
Wonderland Duets for 2 tubas and narrator effectively combine the spoken voice and tuba timber. This is an extremely effective work for many reasons and on many levels not the least of which is the inclusion of humor.
In Krishna, the tuba is treated as an integral part of what is basically an ensemble piece. I found this piece to be a very refreshing change of pace.
Fancies and Interludes I for tuba and piano
Brass Journal 1985
Brent Dutton s recital was highlighted by
performances of Raymond Luedeke's Fancies and Interludes for Tuba and
Piano. Luedeke's composition was
especially well received and indicates that a
very strong work has been added to the
tubist's limited supply of first class tuba and piano music.
Pictures from Breughel
Nocturnal Variations
Dvorak Gipsy Songs
Ragtime
for Woodwind Quintet

Quintessence - Bruce M. Creditor
The two major works for wind quintet, discussed below by the composer, demonstrate a striking originality and meticulous craftsmanship betraying an intimate awareness of idiomatic writing for the winds. The transcriptions he has sent me: Dvorak, Gipsy Songs, Op. 55, and a set of ragtime pieces by Joplin, Lamb and Hampton, are imaginative, colorful and attractive.