In Kharms Way
Voice Afire Pocket Opera-Cabaret presents
In Kharms Way, an absurd evening of Music Theater
and Russian vodka (or Eastern European wine).
Book The Madison String Quartet and In Kharms Way
Featuring The Madison String Quartet and actors Neil Redfield and Cristina Ramos. With original music by Ray Luedeke on texts by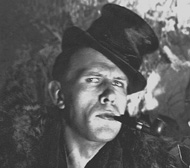 Russian writer Daniil Kharms, as directed by Courtney Laine Self, In Kharms Way was performed at April 29, 2016 at the Tenri Cultural Institute of New York.
"Congrats on another very enlightening and stimulating evening! You really have a gift for weaving the texts and the music together, and I thought your string writing was quite wonderful throughout. Also very impressive the way the music matches the spirit and tone of the words. You really manage to make an integrated whole out of the whole thing, as if you'd worked in tandem with the poet from the beginning. Bravo!" Joshua Rosenblum http://rosenblummusic.com/
"What a privilege to be part of this beautifully conceived and written work. My friends and husband loved it. It needs to be heard by lots more people! After the concert I was approached by a Russian couple who wanted to know the musical quotes-they had guessed the Janecek and I showed them where in the program they were listed." Gerall Hieser http://www.madisonquartet.org/Madison_String_Quartet/Home.html
"Thank you so much for this evening. Theatrically, musically, and every other way it was absolutely wonderful. My friend was so taken with everything that when I took him out for dessert afterwards he refused to let me pay. He also mentioned two or three times how much he enjoyed the entire experience. Hope to see you again soon.
" Jim Lahti http://www.jimlahti.com/index.html
In Kharms Way explores the outrageous, absurdly comical, occasionally obscene, and ultimately sublime world of Russia's iconic master of the absurd, Daniil Kharms (1905-42).
Composer Ray Luedeke has crafted 19 of Daniil Kharms original vignettes into a five act play for 2 actors and set the play to music for string quartet. The on-stage string quartet becomes a virtual "third actor", at times even participating with text. Both actors claim to be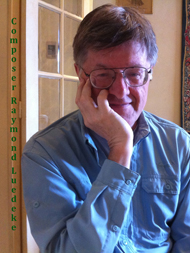 an incarnation of the avant-garde, futurist writer of non-linear plays, anti-rational verse, and parables for adult-children, Daniil Kharms. (Kharms, himself - who dressed like an English dandy, smoked a calabash pipe, and often behaved illogically in public, was eventually arrested by Stalin and died of starvation in a Soviet prison.)
Virtually unknown, except as a writer of children's literature, until 1970 and "glasnost" in the Soviet Union, Kharms' reputation has since grown exponentially, as his adult works (saved from distruction by his sister and by his friend Yakov Druskin) have become available. In present day Russia, Kharms is a cultural hero, along with other writers such as Mikhail Bulgakov (The Master and Margarita). Mikhail Baryshnikov and Willem Dafoe have had world wide success with their version of Kharms' The Old Woman, as directed by Robert Wilson.
The Music
Comments on the music of Ray Luedeke:
Butterfly's Trouble:
"...suffice it to say that we felt nothing was lost from the original, but there also seemed to be a great deal that was added. This qualifies as an original composition, and ranks with the best of new music that is being written." Theater Mania
My Life with Pablo Neruda:

"Over the weekend, My Life with Pablo Neruda, a Pocket Opera-Cabaret that is compelling, intense, and seductive, was celebrated by an evening of Chilean wine and performances." Manhattan with a Twist
If you forget me...:
"This piece has lyrical, exciting dialogue - crisp counterpoint and precise harmonization. Luedeke is a traditional craftsman and the result is, simply, wonderful." SoundWordSight.com Mark Greenfest
In Kharms Way:
The music for In Kharms way is a showpiece for string quartet and showcases the enigmatic and sometimes bizarre world of Daniil Kharmsa with a huge variety of textures, techniques, and styles. Listen carefully and you may hear references to the music of Mendelssohn, of Beethoven, of Josquin Desprez, of Brahms, of Leos Janecek, and even of John Phillip Sousa - all in service to an absurd text.Or is there a method to the seeming madness of Daniil Kharms?
Voice Afire Pocket Opera-Cabaret
Voice Afire Pocket Opera-Cabaret - "Chamber Music as Theater".
Begun in Canada in 2007 by composer Ray Luedeke and moving to NYC in 2010, Voice Afire productions include Butterfly's Trouble, a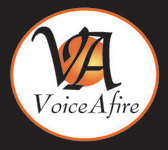 re-invention for 7 performers of Puccini's opera; Close Embrace. a tango cabaret for 8 performers; My Life with Pablo Neruda, a cabaret-opera base on the life of the Chilean poet; The Magical Singing Drum, a chamber opera on an African theme; The Art of Love / Into the Labyrinth for 2 pianos, actor, and visuals; and Kafka Shorts for string quartet and 2 actors.